Kindly refer to representation from Lotus Boulevard Espacia Apartment Owner Association, (Cloud 9 Projects Pvt Ltd,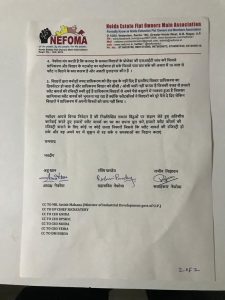 GH – 02, Sector 100, Noida) to Honble Chief Minister, UP, dated September 22, 2021, during UP CM's meet at Expo Center, Greater Noida, regarding stoppage of TM (Transfer Memorandum) of already obtained CC and sub-lease registered flats in above-mentioned Group Housing Society w.e.f., 25-6-2021, against all byelaws and acts of "Industrial Development Authority Act 1976" and Noida Authority's own byelaws regarding allotment terms of Group Housing Plots and subsequently regarding registry of flats in case of already CC Obtained and registered flats of towers in Group Housing Project. Main highlights of this critical problem are as under:
During second week of June 2021, one of the owner of an already registered flat in Tower 32 of the above-said project applied for TM (Transfer Memorandum) to Noida Authority's GHP Department. On receiving authority's demand note dated June 15, 2021 as TM Fees, an amount of Rs. 10,25,000/- (Rs Ten Lakh Twenty Five Thousand Only) was deposited with Authority via RTGS on June 16, 2021.
Post rigorous follow up and running from pillar to post with GHP Department and also meeting AGM, Group Housing personally many times since 3rd week of June 2021, GHP Department Authority finally rejected the TM on June 29, 2021 citing some August 2019 interim Allahabad High Court order quoting one of the clause of above interim order dated August 7, 2019 as "The Sub-Registrar, Gautam Buddh Nagar / Ghaziabad is directed not to register any deed of transfer of any flat constructed by the respondent No. 6 company on the property leased out by the NOIDA in connection with which the present dues are being claimed." The respondent no 6 in this case is builder M/S Cloud 9 Projects Pvt Ltd and the petition filed was Ashish Gupta (Director of Builder Co.) v/s Noida Authority. The presumed interpretation of this Authority's quoted interim order as per flat owner lawyer's opinion is that the sub-lease registry / transfer of flats by the builder to the original allotees are provisionally stopped on the property constructed by the builder on which Authority's present financial dues are pending on the builder and claimed by the authority and certainly not on resale of already CC obtained and registered flats on which the builder company doesn't have any ownership. Never in the history of GB Nagar or all over UP's Development Authorities, ban on transfer and registries of already CC obtained and registered properties has ever happened.
Few years back, authority had notified in the case of GH Societies regarding specific tower wise CC and flat registries on pro-rata basis depending upon the proportion of Authority's dues payment, whereas in this Lotus Espacia Noida Sec 100 case, they have even stopped the resale TM and flat registries of already CC obtained and registered flats in Tower 32 to Tower 36, for which CC was given by Noida Authority on March 14, 2016, which seems to be harassment to the property owners.
In one of the projects of the same 3Cs Group Company, Lotus Panache, Sector 110, Noida, Authority had stopped the TM and registry of the already CC Obtained and Registered flats during 2019 on some interim EOW Delhi Order, which was clarified by Saket District Court order dated February 29, 2020 that the order is not intended for already CC Obtained and Registered Flats and directed to Noida Authority not to stop Transfer of already CC Obtained and Registered Flats of the Lotus Panache Project and since February 2020, TM and registry in the case registered flats is happening in Lotus Panache, then why on the similar misinterpretation by the GHP department, they have stopped TM and registries of the resale flats illegally, thus causing heavy revenue loss to Noida Authority in the form of TM charges and Crores of Rupees Revenue loss to the state government, and harassment of the flat owners.
Since on the same quoted Allahabad High Court Interim order dated August 7, 2019, Authority's GHP department was executing TM and Registries for Lotus Espacia from August 2019 to June 2021, whereas if this order was the valid reason to stop the TM and registry for already registered flats, it should have been stopped since August 2019 itself. It means, if the authority's interpretation is valid for the stopping the TM and registries of already registered flats since June 2021, then it amounts to contempt of court by Noida Authority for executing TM and registries of already registered flats from August 2019 to June 2021.